Popar Sea Life 4D Smart Books & App Package
$74.95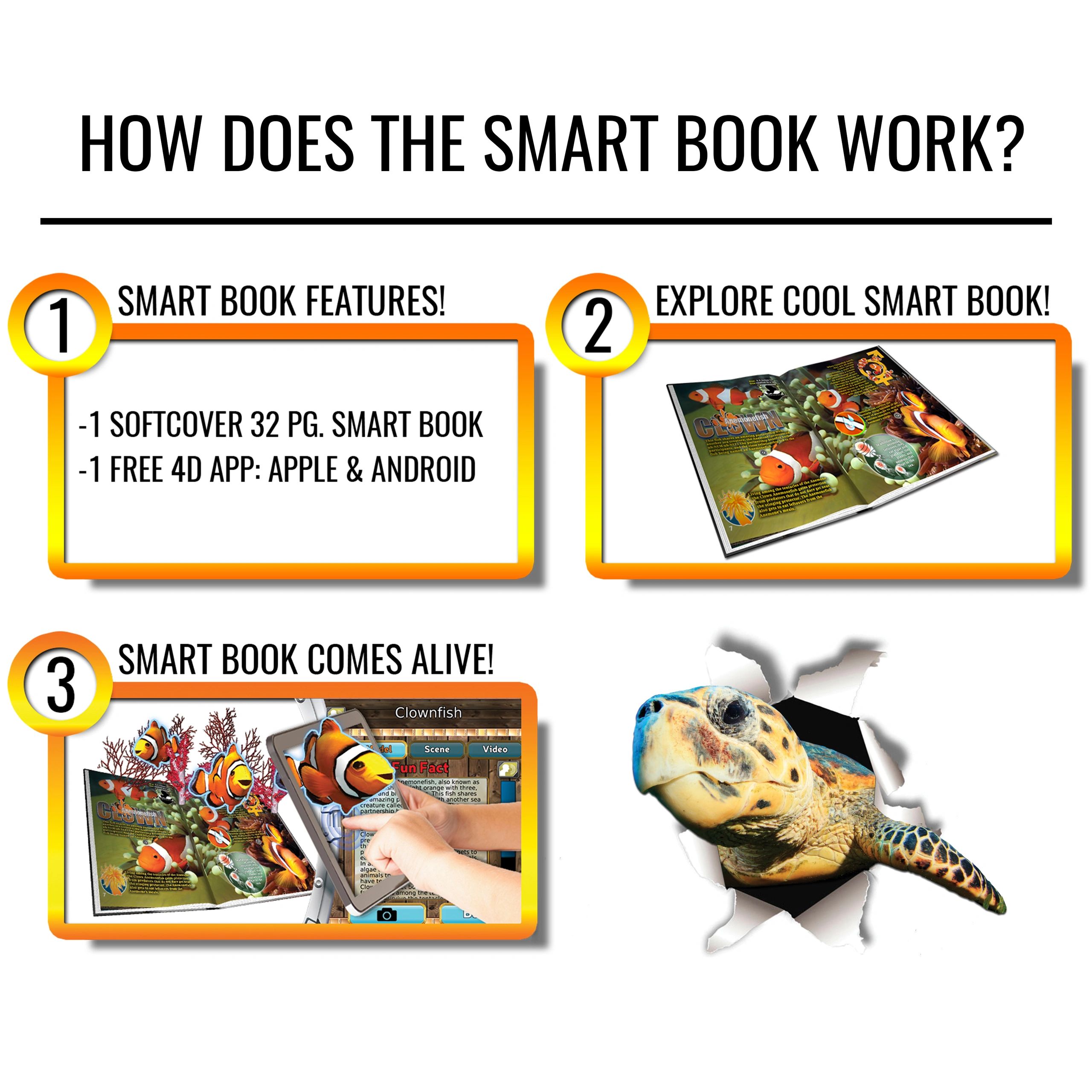 Aspects & Benefits
SEA LIFE SMART BOOK COMES TO LIFE – You can read the book normally or discover an animated world through the window of a smart device. Watch as dolphins leap from the pages and surf in the wake of a boat, sharks take over a shipwreck, an octopus changes color, and so much more!
INTERACTIVE LEARNING – Interact with the 4D animations, listen to the educational read-alongs, play a marvelous learning game, watch amazing videos, and more!
VIDEO & PICTURE SHARING – Use the included app to create awesome short videos of sea creatures chasing your friends, take funny photos of an Orca sitting in the palm of your hand, even transform yourself into a dolphin.
APP INCLUDED – Easy app download from the Apple App Store or the Google Play Store. App is compatible with the latest iPhone/iPad, Android smartphones or tablets. Refer to the minimum system requirements listed in the description below.
GREAT GIFT IDEA – Needing a birthday party gift, stocking stuffer Christmas gift, sea themed party supplies, or party favors. This smart book will make you the favorite parent, aunt, uncle, grandparent or friend.
Description
Popar brings the oceans to life through an interactive Augmented and Virtual Reality infused 32-page softcover children's smart book. Simply download the included app on any Apple or Android smart phone or tablet, and connect and play with all the stunning animations, thought provoking game, educational read-alongs, and so much more! All Popar smart books are designed with these key features to support and help your child enhance creative perception, learn about spatial and temporal concepts, and build listening comprehension. Help change the way your kids interact and experience stories, adventures, and learning.
Minimum Mobile Device Requirements
Apple® iPhone® 6 or newer, or Apple® iPad® 4 or newer, iOS 11 or above. Android™ smartphone or tablet with a rear facing camera, ARM capable processor, running OS 5.0 or above, and Google Play™ (may not work on all Android™ devices) to activate the Augmented Reality and other technology.
Includes
One (1) Smart Book - Softcover
One (1) Apple & Android App
Dimensions
Closed Smart Book - 9.25 inches (W) x 12.25 inches (H)
Quality Assurance
If the product does not meet our quality assurance standard, the manufacturer will accept an exchange up to 30 days from the date of purchase. The manufacturer will not accept any returns due to the included mobile app not working on your mobile smart device.
Award Winning Children's Books
·         Creative Child Magazine - Book of The Year
·         Family Review Center - Gold Award
·         Creative Child Magazine - Preferred Choice Award
·         Family Review - Seal of Approval
·         Creative Child Magazine - Media of the Year
·         National Parenting Center- Seal of Approval
·         Tillywig Toy Awards - Sterling Fun